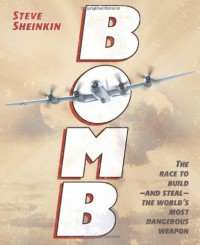 4/26/13 ** Wow! This is history, but told with a strong narrative voice and attention to the quirks, strengths, and foibles of the characters involved. The book essentially follows three story lines - the Americans' and Germans' races to build an atomic bomb during WWII and the Russians attempt to steal the plans.
Sheinkin meticulously researched the events, includes quotes from the people involved, and weaves the details into a compelling whole. This book was a National Book Award finalist and received the Newbery Honor; I can see why. The only thing that would have been useful is a glossary or chart showing the names and roles of key players. The contemporaneous photos were fascinating.
The long period between starting this very interesting book and finishing it has nothing to do with the story or the writing. I began it right before traveling for spring break and didn't want to take a hardcover library book along. While on break, I got involved with other books and was delayed in returning to this book. I'm so glad I did.
3/17/13 ** Please note that while I've shelved this as "Level-elementary," it's actually one of those wonderful books marketed primarily to the children's market that adults would find delightful as well. I've only read two chapters but already find that it's chock full of interesting tidbits of history.